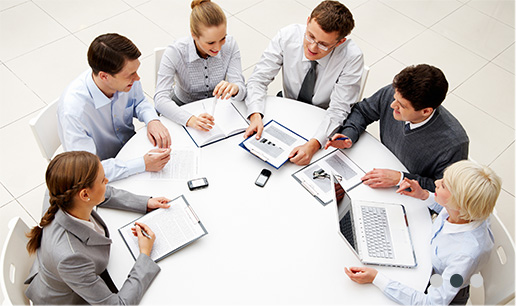 SoftStandard Solutions Systems is a leading consulting
SoftStandard Solutions Systems is a leading consulting, business solution and systems integration firm with a unique blend of services.
SoftStandard offers a broad range of professional consulting, systems analysis & development, systems integration and support services. With solid, broad-based experience, we are confident in our ability to help our customers grow and improve their businesses. More than likely, regardless of the nature and scope of the problem, our dedicated team of professionals can help you achieve a cost-effective business solution.
SoftStandard provides solutions to various industries including Healthcare, Manufacturing, Insurance, Engineering, Financial services, Banking, Consumer retail, Telecommunications and Aerospace. Our most strong domain is Healthcare. SoftStandard is a professional consulting firm specializing in creative solutions for healthcare clients. Our industry experience and domain knowledge has enabled us to provide innovative solutions to our customers.
SoftStandard is promoted by entrepreneurs and Technocrats with proven track record in IT industry. Our expertise extends across a range of technologies encompassing cutting edge technologies like E-commerce, ERP, CRM, Data Warehousing, Web and MS technologies. We always recruit outstanding consultants with a strong technical and functional knowledge in their respective areas of expertise.
We truly believe and have since successfully proven that we can help our clients find the right talent at the right time and a right cost.
Our confidence in this arena is backed by our differentiating factors below:
Providing World-Class Technology
As a technology leader, we simplify managing business applications and the underlying infrastructure. We have been helping our customers leverage the business benefits of next generation technologies like virtualization, cloud computing, On-Demand, and SOA to help them create scalable, available, low-cost IT infrastructure. Our enormous expertise in managing both packaged and custom applications – right from ERP, CRM, SCM, HR, Content Management and Technical Writing and Finance – ensures that their application environment is well integrated and running at peak performance.
Customer Centric Execution Model
SoftStandard offers a truly end-to-end and customer-focused execution approach that offers a seamless combination of advisory services and IT solutions delivered through onsite– offsite – offshore delivery models. Our clients view us as a true IT partner and a one-stop shop for their complete IT needs.
Consulting led IT solutions
Our endeavor is to understand a client's most critical IT needs and align our services and solutions accordingly. All of our services are bundled into point solutions that address critical IT needs of our focus industry sectors. Clients value this approach as SoftStandard helps them meet their end objective rather than being a mere service provider.
objective rather than being a mere service provider.
Focus on innovation
SoftStandard continues to focus on driving innovation and makes a significant investment in developing IP assets, accelerators as well as industry specific solutions. Our focus on a limited set of industry sectors and cutting edge technologies gives us the advantage of added depth to our domain expertise.
Best in class software engineering, HR and Information security practices
Soft Standard's services are built on a sound foundation of industry best software engineering, information security, people management and client relationship practices. This offers our clients a high level of predictability and "Quality of Service."
"Customer First" culture
Soft Standard's growth has been fuelled by the "Customer First" culture that percolates down to our last employee. Agility, flexibility, the willingness to adapt to client's context and the drive to show excellence has all been instrumental in the confidence clients have on us today.